Fall studio safety and re-opening information
August 2, 2020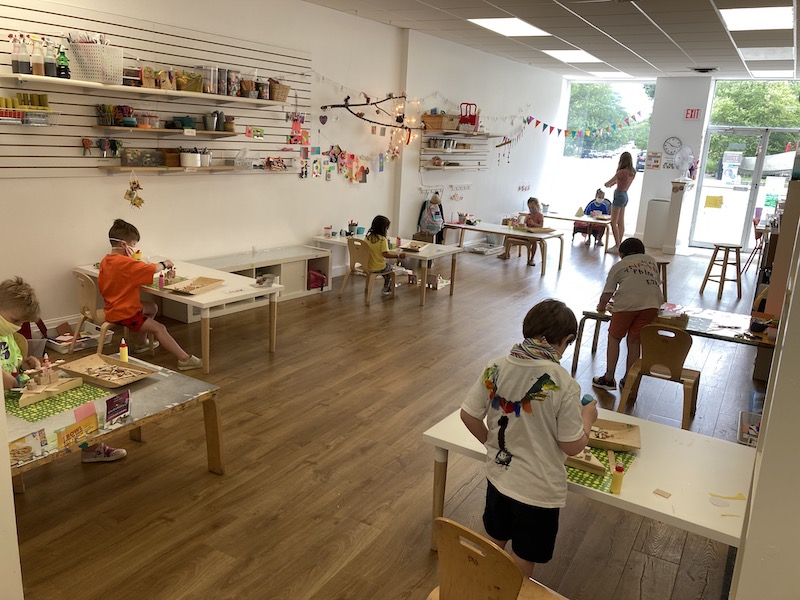 Masks are required, plus hand washing, upon entering the studio.
As we enter into the fall semester, Muckykids is offering classes that will keep kids engaged and curious while following the CDC's recommendations and safety protocols.
We have rearranged the physical space and limited class enrollment. The entire studio space has been reorganized, with all art tables and chairs 6 feet apart. The classes for 9-13yrs will take place in the back section, utilizing the tall tables. The classes for 3-8yrs will take place in the front, using the low tables – each child having their own art table.
I have also changed the younger classes to parent-child. As I have to be 'hands off' with this kids, the parent/care giver can engage with their child's process while serving as their assistant, helping with glue, tape, scissor, and the like. :) This can be a very rich and creative experience as you craft side-by-side or collaborate with your child!
Sanitizing desks, chairs, door handles, and any other shared surfaces will be a priority. I have scheduled times each day, between classes, when sanitization will happen.
In case of a spike in COVID cases and the state mandates new restrictions, I am prepared to switch to Zoom classes.
---
Below you will find how the activities will take place, plus drop-off and pick-up procedures.
Activities:
All students will engage with the day's activities with supplies that only they can touch. These will be labeled and will be theirs for the duration of the semester. There will be some supplies that I will pass out, depending on the activity. I will do this with clean, sanitized hands and with tongs, when possible. (I had plenty of practice with this during the Summer Program, and it was a lot easier than initially imagined… the new normal!) And they will have their own hand sanitizer on their tables for whenever needed.
At their tables they will also have 'side activities'. These will be in a personal basket by their table. Side activities are available when they finish with the main activity, as each kid explores and creates at their own pace.
Drop-off:
Drop-off will be staggered starting 15 minutes before the scheduled class time. Please enter through the front door of the studio, on Mass. Ave. If you drive and park in the lot, you can go through the building's lobby door to get to the Mass. Ave entrance. The lobby door is located in the center of the back of the building. It has a huge planter next to it. Go straight thru to the front. Or you can just walk around the building.
By the front entrance, you will find blue tape on the outside wall, next to the sidewalk. Please wait to enter and I will call you in, one at a time. Upon entering I will prompt you and your child to wash your hands. There are 2 sinks that we will point out.
Each child will have a labeled cubby for personal belongings. This will be located next to their art table.
And please send a smock in with your child that they can use during the semester. This can be an oversized t-shirt to put over their clothes or they can just wear ok-to-get-messy clothes.
After dropping off, you will exit through either of the back doors, which will be pointed out to you.
Pick-up:
Pick-up starts at the end of the scheduled class time. Please enter thru the front of the studio, on Mass. Ave. Again, waiting on the tape marks on the wall. You will be called in. There is hand sanitizer inside, near the door for you to use upon entering. Please exit through either of the back doors.